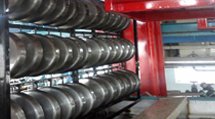 E-coating is a method of painting which uses electrical current to deposit the paint. The process works on the principal of "Opposites Attract". This process is also known...

Autocoats applies liquid paint to a variety of products and substrates including automotive Castings, hydraulic jacks and wheel hubs. A special high temperature...

Powder coating is a dry finishing process. Fine, grounded up particles containing pigments and resins are sprayed onto a metal substrate using an electrostatic spray gun.